The local guy asked, "Can you please cook your food somewhere else?"
We responded, "Is there an issue with cooking here?"
The local guy didn't answer and left, leaving all of us puzzled. We continued our work preparing the Nepali stove, "Chulo."
AAGO TAPNU MUDA KO, KURAA SUNNU BUDAA KO (आगो ताप्नु मुदाको कुरा सुन्नु बुदोको)
Anirudra picked me up from home. The fixed time was 9 am, but he picked me up around 10 am on September 26, 2020 (we jokingly referred to it as "Nepali time"). After that, we picked up two other friends, Rikesh and Santosh. Anirudra is my school friend, and I had just been introduced to Rikesh and Santosh by Anirudra the day before when we planned this Bethanchowk camping and hiking trip.
Before heading out, we made a stop at a local department store in Panauti to buy essential items for camping, which included sausage, beaten rice, paneer, vodka, beer, spirite, and various other items.
After a few hours of driving, we parked our jeep at a scenic spot to get ready for lunch. We were all feeling hungry, so we decided to prepare a simple meal consisting of only four items. Fortunately, I had sausages to cook. How did I manage this? Well, two people worked on making a stone chulo, one collected wood, and after a lot of hard work, the chulo was ready. I ignited a fire with newspaper and grilled sausages over it. In just two minutes, we were savoring sausages along with vodka. Once the meal was ready, we all gathered around to eat. We enjoyed our lunch while engaging in conversation and sharing laughter.
After lunch, we felt a mixture of emotions as we cleaned the area and packed up our belongings, including the trash. Then, to our surprise, we realized that we had been preparing lunch at a cremation ground. A wave of fear and apprehension washed over all of us as we understood the reason behind the local guy's earlier comment.
Some people believe its disrespectful and bad luck to cook or eat at a cremation ground because they think it can upset spirits or bring negative vibes.
Paap Kata Bata Karaucha Dhuri Bata (पाप कता बाट कराउछ धुरी बाट)
We set off toward Bethanchowk. An hour later, our jeep experienced a puncture, and we had to wait for a while for a replacement. After it was replaced, we resumed our journey. The road conditions were quite poor, and half an hour before reaching Dhungkharka, the jeep became unable to move. Three of us had to push the jeep while Anirudra drove it to Dhungkharka, and the rest of us walked there. It became evident that there was a problem with our vehicle. Since it was getting late, we decided to spend the night at Bethanchowk Lodge and Restaurant.
Camp Fire: A Night Under the Stars
We checked into the rooms, left our luggage, and then gathered around the campfire, savoring drinks and the snacks that were served. The cook prepared dinner for us, and after some time, they served the meal. We decided to play cards before retiring for the night. We chose to play a game of "Marriage," and I was fortunate enough to secure the win. Even though I rarely played, it was a delightful way to spend the evening with friends.
Hike to Bethanchowk on Day II
We woke up early in the morning and enjoyed a typical breakfast in the village. During that time, Anirudra inspected the vehicle and discovered that it required maintenance, but there was no one available to fix it.
We commenced our hike at 8:00 am, and the view from Dhungkharka was stunning. Since we had checked in the previous night when it was already dark, we had missed the opportunity to witness the views from Dhungkharka. We were in a hurry to reach the summit because we didn't want to miss the mesmerizing and breathtaking views of the Himalayas.
We walked on a gravel motorable road and took some shortcut trails. These shortcuts used to be hiking trails before the construction of the motorable road. It was a better experience to walk on the trail instead of the road, although it was sometimes frustrating when vehicles passed by. Therefore, it is important for the local community or government to preserve these trails for trekkers.
After 1-2 hours, we were fortunate to find only trails and no more motorable road. It was exciting to hike uphill through a dense forest. Along the way, there were a few shelters built by the local community for overnight camping or picnicking before reaching the Narayanthan temple. After worshiping at the temple, we explored the area.
For a brief moment, the weather was clear, allowing us to catch a glimpse of the mountain ranges; otherwise, they were covered in clouds, leaving only the hills visible. We waited for an hour, crossing our fingers, hoping for clear weather to see the mountain ranges and the Terai regions. During this time, we took pictures, including some in beautiful yet risky areas. Later, we retraced our path and followed the same route that we had taken earlier.
Promotion
One should visit Bethanchowk, the enchanting and beautiful hill, at least once. The local community should promote this destination for both local and international explorers. It offers a magnificent setting for hiking, camping, or picnicking, and visitors can find local homestays and guest houses.
Garbage
The hiking trail is exceptionally well-maintained and clean, with very few traces of litter along the path. However, upon reaching the hill's summit, a disheartening sight awaits. It resembles the situation in Kathmandu when the garbage collectors cease their duties. Here, a significant accumulation of trash is evident, spoiling the beauty of the place. Plus, there were tons of flies buzzing around the garbage, which was a first-time experience for me in my life.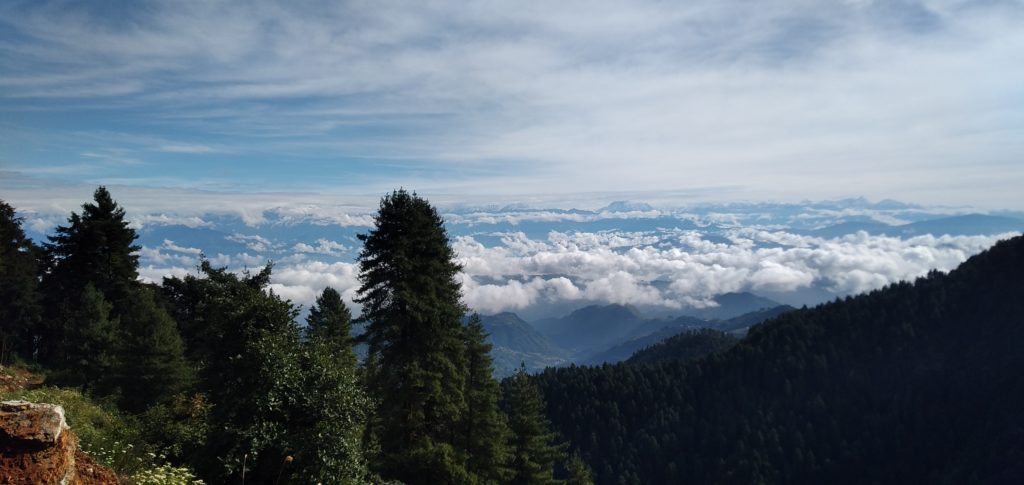 Bring Back Your Trash
To preserve and promote this area, local communities should handle waste management. Travelers should also carry their trash back with them when they return. If everyone takes responsibility for their waste, we won't need to worry about garbage.
How are we going to get back?
After returning to our lodge, we immediately placed our lunch orders and took some time to freshen up. In the meantime, we attended to our vehicle, where Anirudra attempted to start it, but unfortunately, his efforts were in vain. The inevitable question arose: "How are we going to get back?"
Just as we pondered this, a call came from one of the helpers, announcing that our lunch was ready. We gathered around the table and enjoyed our meal while engaging in a lively discussion about various ideas and solutions to our vehicle problem.
Following our satisfying lunch, we decided to make another attempt to start the vehicle, and this time, we were fortunate enough to succeed. However, we soon realized that the Radiator of the vehicle had been damaged, causing us to refill water every 10-15 minutes to keep it running. We continued this workaround until we stumbled upon a maintenance shop.
It took nearly two hours for the skilled mechanics at the shop to repair our vehicle, ensuring it was in good working condition again. This unexpected pit stop added an interesting twist to our journey, but we were relieved to continue our adventure with a fully operational vehicle.